5K COURSE INFORMATION
As of Monday, February 22, 2021, the 2021 PGDC Running Events will be run virtually.
The good news…with the City of Tampa's full support, Bayshore Boulevard will be closed (Platt Street south to Gandy Boulevard) on Saturday & Sunday, May 8-9, 2021 from 5:00 a.m. – Noon.
All 2021 PGDC, 5K, registered participants will be invited to 'Run Virtually On Bayshore!'  The Virtual 2021 PGDC 5K WILL NOT be timed!
For the PGDC 5K, the Gasparilla Distance Classic Association (GDCA) will be posting a suggested route, starting and ending on Bayshore Boulevard where the Gasparilla Ship is docked.  The suggested PGDC 5K route will be posted no later than April 15, 2021.
PLEASE NOTE:  Bayshore Boulevard will be closed only on Saturday & Sunday, May 8-9, 2021 (5:00 a.m. – Noon).  During this special road closure, Bayshore Boulevard will be open only to 2021 PGDC 15K, 5K, Half Marathon, 8K & Michelob Ultra Challenge, Michelob Ultra Pure Gold Challenge, Bud Light Seltzer Challenge, and Stella Solstice Challenge registered participants.
Back in 2021!
Zephyrhills Natural Spring Water Half-Way There!
Zephyrhills Natural Spring Water will greet runners and walkers with a Zephyrhills Half-Way There Celebration at the Publix Gasparilla Distance Classic 5K Half-Way Point!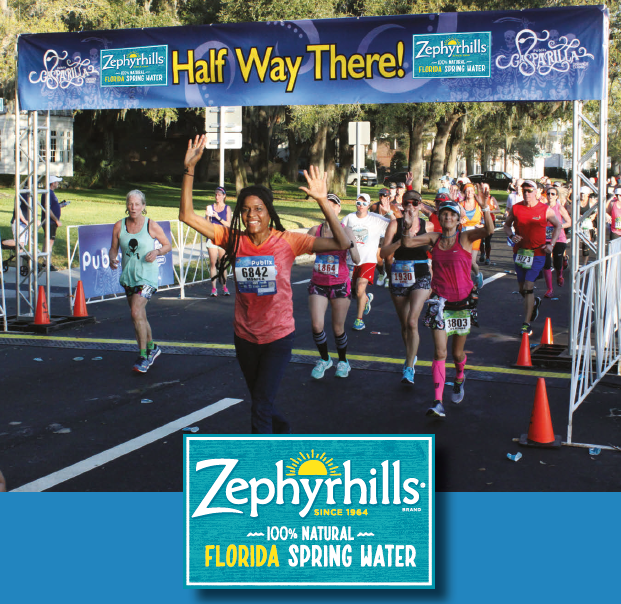 For 'Run Virtually On Bayshore' There Will Be No Aid Stations
For those that choose to Run The PGDC 15K Virtually On Bayshore, please note there will be NO traditional Aid Stations.  Those that choose to 'Run Virtually On Bayshore' on Saturday & Sunday, May 8-9, 2021, will be responsible for their personal hydration needs.
---
Medical Support

In support of 'Run Virtually On Bayshore' on Saturday, May 8 and Sunday, May 9, Tampa General Hospital will provide a fully equipped Medical Facility staffed with a team of Tampa General Hospital Emergency Room Medical Professionals. Only registered participants requiring medical assistance will be allowed access to the TGH Medical Facility. Medical Staff will be ready to assist you at all times. Tampa Fire Rescue Paramedics will be stationed along Bayshore Boulevard and will be roving on motorized bicycles and golf carts. The Medical Staff will have the right to withdraw any runners or walkers from the race who appear in distress or at risk should they continue running. 
---
Safety
For the safety and enjoyment of all event participants, the course(s) are restricted to registered runners and walkers, registered wheelchair division participants, and official race personnel ONLY. No dogs, no strollers, no baby joggers, no bikes, no in-line skates, no roller skates, and no wheeled vehicles (other than the above-registered wheelchairs) will be allowed on-course. Violators will be disqualified and removed from the course by a Race Official. For the safety of all, in accordance with RRCA Guidelines (Road Runners Clubs of America), the use of headphones is discouraged..