2019 Publix Gasparilla 8K Will Be Capped At 5,500!
START TIMES • Sunday, Feb. 24, 2019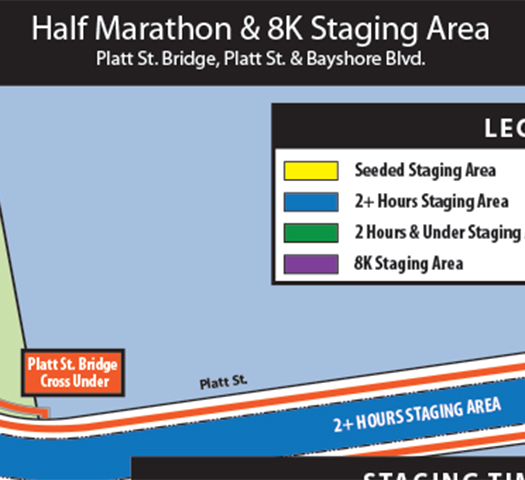 9:15 a.m. 8k
START:Bayshore Boulevard & Verne Street
Please access the Start lines from the rear and by utilizing the Platt Street Bridge; adjacent to the Franklin Street Entrance of the Tampa Convention Center.
Seeded men & women ONLY will access the 8K starts from the front and should utilize the seeded/elite entrance located adjacent to the start platform on the north side of Bayshore Boulevard.
8k Seeded Start Access
8K Seeded Start Access is limited and will be provided on a first-come, first-served basis. For access to the 8K Seeded Start Area, a written results verification is required and must be presented BY-MAIL with a completed entry form and payment. The following are Finish Times required for 8K Seeded Start Access:
Finish Time Requirements for Men:
15k – 1-hour or less
10k – 40-minutes or less
5k – 20 minutes or less
Finish Time Requirements for Women:
15k – 1:15:00 or less
10k – 50-minutes or less
5k – 20 minutes or less
PLEASE NOTE:
 The 2019 Publix Gasparilla 8K will start promptly at 9:15 am.  Once the Start Area is cleared at approximately 9:25 am, the Start will be closed and the timing mats will be pulled.   Runners/Walkers arriving late will not be allowed on course.
Runners and walkers participating in the Michelob Ultra Challenge must complete the Publix Gasparilla Half Marathon in under 2:55 and allow enough time to make it to the Official Start of the Publix Gasparilla 8K.
ATTENTION 8k Walkers!
Walkers are welcome in the Publix Gasparilla 8K. Because of road closure permits, a 16-minute per mile pace must be maintained. Those not able to complete the 8K by 10:45 a.m. (1:30) will be moved to the Bayshore Boulevard sidewalk until Swann Avenue, at which time, they will be moved back on to the road for the remainder of their 8K.
$30
– May 1-31, 2018
$35 – June 1 – Sept. 30, 2018
$40 – Oct. 1, 2018 – Jan. 11, 2019
$45 – ONLINE ONLY Jan. 12 – Feb. 17, 2019 (or until 8K Sells Out)
$50 –  Friday & Saturday, Feb. 22-23, 2019, Expo Late Registration (if available)
There will be NO Race Day Registration for the 2019 Publix Gasparilla 8K
Refunds and/or transfers of registration are not allowed in ANY of the Publix Gasparilla Distance Classic Race Weekend Events.

If available, online registration will remain open until Sunday, February 17, 2019, but beginning Saturday, January 12, 2019, the cost of 8K registration will be according to the Online Late Registration Fees ($45 – 8K).
Participants that register online will receive a Race Week Registration Confirmation via email no earlier than Monday, February 18, 2019.  This confirmation will be in addition to the confirmation received from Active Networks upon completion of online registration.   The Race Week Registration Confirmation will include each participant's Race Number, Name, Address, Race Entered and Age.
PLEASE NOTE:  If at any time, you have unsubscribed from the Publix Gasparilla Distance Classic E-Blast Database, you WILL NOT receive a Registration Confirmation.  You MUST rejoin the Publix Gasparilla Distance Classic E-Blast Database.  To rejoin, Click Here.

To register by mail, please complete a 2019 PGDC Registration Form
For the form-fillable feature, PGDC Registration Form must be opened in Adobe Reader.  Once opened, click on each field, fill in and then, print for signing.  Once completed, enclose Entry Fee Payment and mail to the following address: GDCA  •  P.O. Box 1881  •  Tampa, Fl. 33601-1881
PLEASE NOTE:
 Registrations by mail must be postmarked by January 11, 2019. 

Publix Gasparilla 8K Shirt & Race Number Pick-Up will take place during the 8 On Your Side Health & Fitness Expo that will be held at the Tampa Convention Center – East Hall on Friday, February 22, 10 a.m. – 8 p.m., and on Saturday, February 23, beginning at 9:30 a.m. (following Start of 5K) and until 5 p.m.
For late out-of-town arrivals ONLY, there will be very limited Packet Pick-Up on Race Day, Sunday, February 24. Requests for Race Day Packet Pick-up must be made in writing and no later than Sunday, February 17, 2019*.
If you are not able to attend the Expo and pick-up your Race Number, a Race Number Pick-Up Authorization Form must be completed, signed and presented by whoever WILL be picking up for you.  A downloadable version of the Authorization Form can be found below.